Versatility and ease of use characterize the Doterra Aroma Lite. This compact diffuser easily disperses Doterra essential oils throughout any room while maintaining an unobtrusive and quiet presence. Its many setting choices and simple design make it an appealing way to enjoy the benefits of essential oils and make it the ideal machine for anyone looking to use their diffuser in a variety of situations.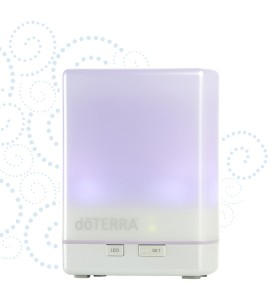 Click Here For More Reviews
Specs
• UPC number: 764966644899 081159518608
• Doterra part number: 33130001
• Weight: 1.2 lbs.
• Dimensions: 3 in. x 4 in. x 6 in.
• Price: About $100, depending upon where it is purchased
• Special features: Night light, timed diffusing, a variety of mist settings, large reservoir
• Oils to use: Any Doterra essential oil or oil blend
Doterra Aroma Lite Diffuser Review
The Doterra Aroma Lite diffuser boasts a number of characteristics that set it apart from the competition. Perhaps the most fundamental of these is the technology it uses to break the essential oils and water into particles to be dispersed throughout the room. The Aroma Lite diffuser utilizes real-time atomization technology that continually breaks apart the mixture into 1-3 micron-sized particles for distribution. The effect of this technology is to make it easier and more effective in dispersing the oils throughout the room, making the benefits of the oil more readily available to anyone in that room.
In addition to its powerful technology, the Aroma Lite boasts versatility that makes it an appealing choice to meet the diffusing needs of almost anyone. For instance, consumers can choose between a 4- or 8-hour diffusing period that will automatically diffuse the oils at regular intervals for the set amount of time. In addition, consumers may also choose from among four mist levels to make sure they receive exactly the amount of vapor they desire from their diffuser. Even the LED night light can be set to one of two lighting levels. This flexibility means that consumers can use the diffuser in a number of situations and environments without being inconvenienced. Other benefits of the diffuser include quiet operation and a small size that make it an unobtrusive addition to any room. Its square shape also makes it easy to fit into luggage for consumers who wish to enjoy the benefits of essential oil while on the road. Finally, the Aroma Lite diffuser is easy to use and to clean, making it easier for consumers to enjoy the benefits of essential oils without hassles.
The Aroma Lite's primary downside is that it requires the use of Doterra essential oils. While the diffuser will work with other kinds of essential oils, adding other brands will nullify the warrant. In addition, while the diffuser runs quietly, the slight buzzing sound it does make can be irritation to some consumers who are trying to sleep. However, the ease of cleaning and filling, the variety of settings and choice, as well as the efficient technology, make it an appealing choice for any consumer looking for a small, powerful diffuser through which to enjoy the benefits of their essential oils.