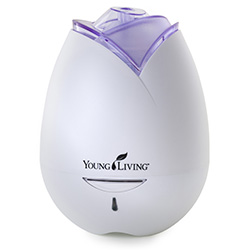 The Young Living home diffuser has been specially designed by Young Living to effectively diffuse its essential oils throughout a room. Inspired by the design of the aromatic rose and utilizing ultrasonic technology, the diffuser efficiently disperses the essential oils throughout any desired space. This diffuser stands out from the competition because of its all-in-one combination of humidifier, air purifier, and aromatherapy diffuser. Created for simplicity and effectiveness, it is the ideal diffuser for any Young Living essential oil.
Specs
• UPC number: 852678605113 610708575337
• Weight: 2 lbs.
• Dimensions: 5.3 in. x 4.7 in. x 6.7 in.
• Price: Approximately $70-100, depending on where it is purchased
• Special features: Elegant design, LED light, timer
• Water used: Tap or mineral
• Included products: Two 5ml bottles of Young Living essential oils
REVIEW
The Young Living home diffuser is one of the most effective methods for dispersing essential oils throughout a room. This diffuser boasts elegance and simplicity. Its design is based upon the shape of the rose, making it a soft, petaled, and elegant addition to any room. Its white color and the fact that it runs very quietly make it unobtrusive and capable of blending into almost any environment. In addition, this small machine offers a powerful combination of aromatherapy, air purifier, humidifier, and atomizer in one machine. The result is a diffuser that is compact as well as effective, a simple design that offers many different capabilities. In addition to its simple design, the Young Living home diffuser is also simple to use. Its LED light make it easy to spot in the dark, while its timer enables the consumer to control how long the essential oil is dispersed into the air. Other easy-to-use and convenient features include the ability to use either tap or mineral water and a design that makes it easy to keep clean.
The simplicity of the Young Living home diffuser does not detract from its reputation as an effective diffuser. This diffuser releases a larger-than-average vapor cloud that enables it to diffuse throughout a large room, and that helps to guarantee the delightful odor and relaxing atmosphere that makes diffusing such an enjoyable experience. In addition, the Young Living home diffuser possesses powerful
ultrasonic technology
. This technology enables to diffuser to split the essential oils into many tiny pieces that can then float throughout the entire room, spreading their beneficial effects to anyone in the room. This efficient technology allows the consumer to get the most out of their diffusing experience.
Because the Young Living home diffuser is an ultrasonic diffuser, it may not work correctly if there is too much water in it. If the diffuser is overfilled, it will not be able to disperse the essential oils throughout the air, and consumers may not experience the full benefits of their essential oils. As a result, consumers should be careful to keep their water level at or below the diffuser's fill line. When filled correctly, however, this diffuser offers an effective, powerful, and elegant tool for enjoying the benefits of essential oils.