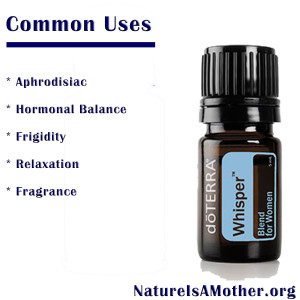 Buy Doterra Whisper for a blend of essential oils designed especially with women in mind (hence being specifically marketed by Doterra as a "Blend for Women"). Used primarily for its fragrance, Whisper offers a musky, distinctive aroma that calms and relaxes. However, it's effects range from being an aphrodisiac to being a relaxation aid to helping with balancing hormones. Each of the essential oils in the blend possess characteristics that quiet, soothe, and restore, making this blend incredible calming as well as appealingly fragrant.
Pricing Options (and Buying Alternatives)
*Lady Sclareol is Young Living's version of the Doterra Whisper Blend.
**Sensual Synergy is the closest generic alternative to Doterra Whisper.
Best When Used With
General Information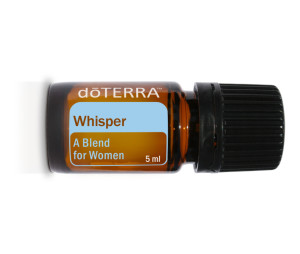 Source(s): Bergamot peel oil, ylang ylang flower oil, patchouli leaf oil, cocoa bean absolute oil, labdanum oil, jasmine flower absolute oil, rose flower oil, Hawaiian sandalwood oil, vanilla bean absolute oil, cinnamon bark oil, vetiver root oil
Other Ingredients: Fractionated coconut oil
Best For: Fragrance
Other Potential Uses: Relaxation
Suggested Directions For Use: Apply a few drops to neck and wrists, diffuse
FAQS (Frequently Asked Questions)
Where To Buy Whisper- Best prices can usually be found here on Amazon
How Much Does Doterra Whisper Cost? – You can purchase 15 ml of Doterra Whisper Blend for under $27.00
How To Make Whisper Essential Oil? –  Since Whisper is a proprietary blend of essential oils manufactured by Doterra. However, the following video explains its benefits and uses.
Doterra Whisper Essential Oil Review
Doterra's Whisper is an essential oil blend designed to give women an individualized and appealing fragrance. Its combination of many different essential oils provides the user with the benefits of each of these oils in one convenient and aromatic blend. Whisper possesses a musky, spicy scent by itself. However, the most distinctive characteristic of this blend is its ability to combine with the oils and aromas of the person wearing it. The result is a fragrance that is entirely unique, creating a separate and appealing aroma for each woman who wears it. This ability to individualize the fragrance leads to the most natural and appealing aroma possible for each person.
In addition to its fragrance, Whisper offers users other health benefits. For instance, smelling Whisper can lead to relaxation and calm, for the user and for those around the user who smell the aroma. The essential oils in the blend also offer other health benefits for the consumer as she uses it. For instance, patchouli oil can fight depression; sandalwood helps to smooth and rejuvenate the skin and fight nervousness; cinnamon improves the mood and reduces anger; citrus helps to reduce anxiety; jasmine can eliminate apathy and improve the elasticity of the skin, and the cocoa bean contains many antioxidants. The result of the combination of such useful oils is a blend that can alleviate a wide array of emotional troubles while smelling wonderfully distinctive.
Whisper may be used in a variety of ways. Perhaps the simplest is to treat it like a perfume and apply a couple drops to the wrist or neck. The aroma is strong enough that those few drops will be enough to give off a pleasing aroma. The oil blend may also be rubbed over clothing to give them the same welcoming and unique smell, or diffused to spread that aroma throughout a room. Consumers should be aware of the potential for skin irritation when using Whisper. The oil blend works best when diluted in a carrier oil such as coconut oil, because the dilution lowers the chances that the oil blend will irritate the skin. However, when used properly, Whisper can offer women a one-of-a-kind opportunity to perfume themselves in a way that is natural, appealing, and entirely unique.